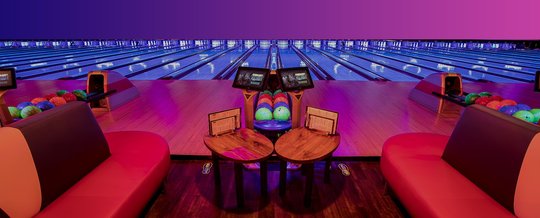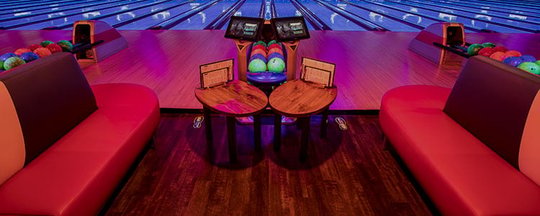 Bowlero Corp. League Rewards Program Terms and Conditions
The following terms and conditions (referred to as "Terms and Conditions") form the basis of participation and membership in the Bowlero Corp. League Rewards Program (the "Program"). Your participation and membership in this Program will be governed by these Terms and Conditions. It is your responsibility to read these Terms and Conditions so that you understand the Program's rules and benefits and your responsibilities under the Program. Your enrollment as a member of the Program constitutes your acceptance of the Program's Terms and Conditions. This Program is sponsored and operated by AMF Bowling Centers, Inc. dba Bowlero Corp. Centers. ("Sponsor"). No purchase is necessary to enroll in the Program.
Enrollment
Program membership is available to any person 18 years of age or older with valid government-issued photo identification.

Enrollment is open only to legal residents of the 50 United States, the District of Columbia, Canada and Puerto Rico. Void outside of the 50 United States, the District of Columbia, Canada and Puerto Rico, and where prohibited, taxed or restricted by law.

Employees of Sponsor, its subsidiaries, their respective advertising and promotion agencies, and each such entity's immediate family members and/or those living in the same household of each are not eligible. "Immediate family member" shall be deemed to mean husband, wife, children, mother, father, sister, sister in-law, brother or brother in-law. All federal, state and local laws and regulations apply.

Eligible individuals may sign up for the Program at any Bowlmor, AMF, or Bowlero, Bowling or other facility currently owned, managed or operated by Sponsor ("Facility"), or through such other channels as may be from time to time designated by Sponsor. Program enrollment and membership can only be activated by presentation of valid identification at a participating Facility. A Bowlero Corp. League Reward Card (the "Card") will be issued to each Program member.
Only individual persons are eligible for Program membership; corporations or other entities cannot become Program members.
Each member is responsible for all transactions on his/her account associated with their Card or membership.
A member is required to present valid government-issued photo identification bearing the same name as stated on his/her Card in order to be entitled to Program benefits.
Duplicate Cards will not be issued.
Neither the Program nor Sponsor nor any Facility is responsible for lost, damaged or stolen Cards. It is a member's responsibility to keep and maintain his/her Card secure.
A member may not transfer, sell, assign, pledge, hypothecate, purchase, trade or barter a Card, his/her membership in the Program, or any benefit derived therefrom to another individual.
By enrolling in the Program, members consent to the terms of the Sponsor' Privacy Policy (https://bowlero.com/privacy-policy) and Terms of Use (https://bowlero.com/terms) and such terms are incorporated herein by reference.
Members are solely responsible for ensuring that the information contained in their enrollment materials is accurate and current.
Program Benefits
Program benefits are offered through Facilities. A Facility may offer benefits to members different from another Facility. Program benefits may change or expire from time to time without notice. New benefits may be offered from time to time without notice. It is the responsibility of a member to check with a Facility to determine the applicable benefits for Program members.
Program benefits are offered only to the individual Program member who has displayed his/her Card. Persons who are not members of the Program are not entitled to any Program benefits. Supporting identification documentation is required.
Members are required to present the originally issued Card to a Facility in order to be entitled to benefits.
To the extent any benefits relate to reward points, calculation, tabulation, accumulation and redemption of such points shall be made by Sponsor in its sole discretion and its determinations are final, noncontestable and nonappealable.
Cards are not credit, debit or charge cards, and have no monetary or stored value.
Members may not accrue benefits if his/her Card is used by another individual.
Any violation of these Terms and Conditions will automatically result in immediate forfeiture of membership in the Program without notice.
Any tax liability resulting from the accumulation or use of Program benefits is the sole obligation of the member.
General Program Conditions
Violation of the Terms and Conditions, including fraud, misrepresentation, misuse of the Card to manipulate accumulation of benefits, or other improper conduct as determined by Sponsor, may subject the member, without limitation, to termination of the Program membership, forfeiture of all of the member's benefits, including accumulated points, and/or appropriate administrative and/or legal action by Sponsor or applicable governmental authorities. In addition, Sponsor reserves the right to take appropriate legal action to recover damages, including its attorneys' fees incurred in prosecuting or defending any lawsuit related thereto.
Membership in the Program and accumulation of points, and/or benefits do not confer any enforceable contract or vested property rights with respect to Program benefits.
Sweepstakes, contests, offers and other promotions may be subject to additional rules, terms and conditions which member must comply with to be afforded benefits. See www.bowlero.com for more information which terms are incorporated herein.
In the case of unavailability of any benefit, Sponsor reserves the right to issue a substitute benefit or cancel the benefit. No cash equivalent will be provided and all benefits are non-transferable and no substitution will be made except as provided herein at the Sponsor's sole discretion.
Sponsor may require members to submit documentation to permit it to comply with all applicable state, federal and local tax reporting.
Enrollment as a member and acceptance of benefits constitutes each member's permission for Sponsor to use his/her name, address (city and state), likeness, photograph, picture, portrait, voice, biographical information and/or any statements made by each member regarding the Program or Sponsor for advertising, marketing, promotional and other business purposes without notice or additional compensation, except where prohibited by law. By enrolling as a member, each member hereby irrevocably grants to Sponsor, and those acting with its authority, the unrestricted, irrevocable, unconditional, absolute, perpetual, worldwide right and license to use member's name, address (city and state), photograph, likeness, voice, biographical and personal background information, statements, and Program enrollment, and, without limitation, any notes, photograph, film, or video or audio tape that may be taken of member or of such materials (the foregoing, collectively, the "Content"), without further compensation, consideration, or notice or permission to member or to any third party, and to reproduce, copy, modify, create derivative works of, display, perform, exhibit, distribute, transmit or broadcast, publicly or otherwise, or otherwise use and permit to be used the Content or any part thereof, whether alone or in combination with other materials (including but not limited to text, data, images, photographs, illustrations, and graphics, video or audio segments of any nature), in any media or embodiment now known or hereafter developed (including but not limited to any format of any computer-based, Internet-based, electronic, magnetic, digital, laser or optical-based media), in connection with any Sponsor (or its designee)'s advertising, promotion, publicity, trade, sweepstakes or contest promotions, activities, or materials or other business purpose. By enrolling, member agrees to release and hold harmless Sponsor, its advertising and promotion agencies and their respective parent companies, subsidiaries, affiliates, partners, representatives, agents, successors, assigns, employees, officers and directors ("Released Parties"), from any and all liability, for loss, harm, damage, injury, cost or expense whatsoever including without limitation, property damage, personal injury and/or death which may occur in connection with, preparation for, travel to, or participation in the Program, or possession, acceptance and/or use or misuse of any benefit in any Program-related activity and for any claims based on publicity rights, defamation or invasion of privacy and merchandise delivery. Sponsor is not responsible if Program is discontinued or suspended or if any benefit cannot be awarded due to acts of war, natural disasters, weather, acts of terrorism or events beyond reasonable control of Sponsor. Members who do not comply with these Terms and Conditions, or attempt to interfere with this Program in any way shall have their membership revoked without notice.
Sponsor, its affiliates, partners and promotion and advertising agencies are not responsible for technical, hardware, software, telephone or other communications malfunctions, errors or failures of any kind, lost or unavailable network connections, web site, Internet, or ISP availability, unauthorized human intervention, traffic congestion, incomplete or inaccurate capture of entry information (regardless of cause) or failed, incomplete, garbled, jumbled or delayed computer transmissions which may limit one's ability to participate in the Program, including any injury or damage to a member's or any other person's computer relating to or resulting from participating in this Program or downloading any materials in this Program.
Sponsor reserves the right, in its sole discretion, to cancel, terminate, modify, extend or suspend this Program in its sole discretion, including should (in its sole discretion) virus, bugs, non-authorized human intervention, fraud or other causes beyond its control corrupt or affect the integrity, administration, security, fairness or proper conduct or functioning of the Program. In such event, Sponsor reserves the right to cancel any benefits awarded without notice and forfeit accrued benefits previously awarded. Sponsor reserves the right, at its sole discretion, to revoke any individual's membership or participation in the Program if it finds, in its sole discretion, that such individual is tampering, harming or impairing the operation of the Program or its properties used in connection therewith.
CAUTION: ANY ATTEMPT BY A MEMBER TO DELIBERATELY DAMAGE ANY PROPERTIES USED IN CONNECTION WITH THE PROGRAM OR UNDERMINE THE LEGITIMATE OPERATION OF THE PROGRAM MAY BE A VIOLATION OF CRIMINAL AND CIVIL LAWS AND SHOULD SUCH AN ATTEMPT BE MADE, THE SPONSOR RESERVES THE RIGHT TO SEEK DAMAGES FROM ANY SUCH PERSON TO THE FULLEST EXTENT PERMITTED BY LAW.
The Released Parties are not responsible for: (1) any incorrect or inaccurate information, whether caused by members, printing errors or by any of the equipment or programming associated with or utilized in the Program; (2) technical failures of any kind, including, but not limited to malfunctions, interruptions, or disconnections in phone lines or network hardware or software; (3) unauthorized human intervention in any part of the enrollment process or the Program; (4) technical or human error which may occur in the administration of the Program or the processing of enrollment; or (5) any injury or damage to persons or property which may be caused, directly or indirectly, in whole or in part, from member's participation in the Program or receipt or use or misuse of any benefit. If for any reason a member's enrollment is confirmed to have been erroneously deleted, lost, or otherwise destroyed or corrupted, member's sole remedy is to re-enroll in the Program and any benefits or points accrued through to such date may be cancelled.
Each member agrees that any and all disputes, claims and causes of action arising out of or connected with this Program or any benefit awarded shall be resolved individually, without resort to any form of class action, and exclusively by shall be submitted to final and binding arbitration, to be held in New York County, New York, before a single arbitrator. The arbitrator shall be selected by mutual agreement of the parties or, if the parties cannot agree, by striking from a list of arbitrators supplied by the American Arbitration Association or JAMS/Endispute.
The arbitration shall be a confidential proceeding, closed to the general public. The arbitrator shall issue a written opinion stating the essential findings and conclusions upon which the arbitrator's award is based. The parties will share equally in payment of the arbitrator's fees and arbitration expenses and any other costs unique to the arbitration hearing; provided, however, that each side shall bear its own deposition, witness, expert and attorneys' fees and other expenses to the same extent as if the matter were being heard in court. Nothing in this paragraph shall affect either party's ability to seek from a court injunctive or equitable relief at any time. In the event court proceedings are applicable, such disputes shall be submitted before a state or federal court located in New York, New York. Any and all claims, judgments and awards shall be limited to actual out-of-pocket costs incurred, including costs associated with entering this Program, but in no event attorneys' fees; and under no circumstances will member be permitted to obtain awards for, and member hereby waives all rights to claim, indirect, punitive, incidental and consequential damages and any other damages, other than for actual out-of-pocket expenses, and any and all rights to have damages multiplied or otherwise increased. All issues and questions concerning the construction, validity, interpretation and enforceability of these official rules, or the rights and obligations of the member and Sponsor in connection with the Program, shall be governed by, and construed in accordance with, the laws of the State of New York, without giving effect to any choice of law or conflict of law rules (whether of the State of New York or any other jurisdiction), which would cause the application of the laws of any jurisdiction other than the State of New York. UNDER NO CIRCUMSTANCES SHALL SPONSOR, ITS AFFILIATES OR SPONSOR REPRESENTATIVES BE LIABLE TO ANY MEMBER FOR ANY LOSSES OF ANY KIND (INCLUDING, WITHOUT LIMITATION, FOR ANY SPECIAL, GENERAL, DIRECT, INDIRECT, INCIDENTAL, EXEMPLARY, ECONOMIC, PUNITIVE, OR CONSEQUENTIAL DAMAGES OR ANY LOSS OF PROFITS, LOSS OF DATA, LOST SAVINGS, OR LOSSES ARISING FROM BUSINESS INTERRUPTION) THAT ARE DIRECTLY OR INDIRECTLY RELATED TO OR IN CONNECTION WITH THE PROGRAM OR THE DELIVERY BENEFITS THEREOF.
Sponsor may be collecting personal data about entrants, including online to the extent a website is used in connection with the Program, in accordance with its privacy policy. Please review the Sponsor's privacy policy at amf.com/privacy. By participating in the Program, members hereby agree to Sponsor's collection and usage of their personal information and acknowledge that they have read and accepted Sponsor's privacy policy. Without limiting the foregoing, member agrees to the following with respect to any material submitted from the member, including but not limited to, consumer created content: (1) disclosure thereof is gratuitous, unsolicited and without restriction and will not place the Sponsor or any other person under any fiduciary or other obligation, that the Sponsor is free to disclose the ideas on a non-confidential basis to anyone or otherwise use the ideas without any additional compensation to participant; (2) Sponsor does not waive any rights to use similar or related ideas previously known to Sponsor, or developed by their employees, or obtained from other sources; (3) member is verifying that he/she is the owner and producer of the submitted material and that no third party ownership rights exist to any material submitted, and (4) participant is hereby granting the Sponsor a perpetual, worldwide, non-exclusive, royalty-free, sub-licensable (through multiple tiers) right and license to use, publish, reproduce, display, perform, adapt, modify, distribute, have distributed and promote such content in any form, in all media now known or hereinafter created, anywhere in the world, for any purpose.
Changes to the Program
Members acknowledge and agree that membership and Program benefits are provided at the discretion of Sponsor and its Facilities. Sponsor and its Facilities reserve the right to unilaterally change, amend, suspend, cancel or terminate any aspect of the Program, its benefits and/or its Terms and Conditions, in whole or in part, at any time, with or without notice for any or no reason. This means that Sponsor and its Facilities in their sole discretion may at any time, among other things, (1) amend, modify or withdraw any of the Program Terms and Conditions, (2) cancel, revoke, forfeit or change any member's membership status, points, Program benefits and/or promotions, (3) change the value of accumulated or future points or benefits, (4) adjust points and/or otherwise restrict the continued availability of awards, benefits or special offers or promotions, and/or (5) forfeit any Program benefits not yet redeemed for reasons Sponsor deems appropriate (such as but not limited to technical malfunction, error, or any of the listed items in these Terms and Conditions). Sponsor may make one or more of these changes at any time even though such changes may affect a member's benefits or ability to use accumulated points or receive accrued benefits.
Sponsor is not responsible for products or services offered by other companies that may participate in benefits, offers or special promotions provided to members.
All decisions concerning the interpretation and application or administration of the Terms and Conditions are within the sole discretion of Sponsor and any dispute regarding the accumulation of points, and/or the forfeiture of points, benefits or other management or entitlement to benefits will be determined by Sponsor in its sole discretion. Sponsor's decision in any dispute will be final and binding. Claims relating to the Program may not be resolved through any form of class action.
If it is determined that the Program has improperly denied a benefit or award to a member in a manner which is inconsistent with these Terms and Conditions, the member's sole and exclusive remedy shall be the issuance of the improperly denied benefit or award if available, or such other alternative comparable benefit as determined by Sponsor in its sole discretion; Sponsor shall not have any further liability whatsoever and member hereby forever releases Sponsor for any type of loss or liability arising therefrom.
A member's enrollment in the Program indicates his/her unconditional acceptance of and agreement to these Terms and Conditions of the Program.
Decisions of the Sponsor as to the administration and operation of the Program is final and binding in all matters related to the Program.
General Terms for Offers Under the Bowlero Corp. League Reward Program
All offers and benefits are for a limited time only. Must present Program card and mention offer at time of purchase. Valid identification required. Bowling subject to space availability. All beverages and food must be purchased and consumed on day of visit. Not valid with any other offer, coupon, discount, special promotion or credit offer. Valid only for cardholder. Not valid for contracted group events, birthdays, or Xtreme bowling. Blackout days/times apply. Valid only at participating locations. Not valid on previous purchases. No cash value. Subject to certain Program terms and conditions. Not for resale. No substitutions. Not transferable. Subject to additional taxes and use charges. Alcohol service restricted to guests of legal drinking age and as appropriate to protect the safety of guests. Subject to additional taxes and use charges. Consumption of alcohol is not promoted. Please drink responsibly. Local restrictions apply. Promotions and offers may terminate without notice, and are only valid during cardholder's league participation. Special menu pricing may be reflective of existing cardholder discounts.