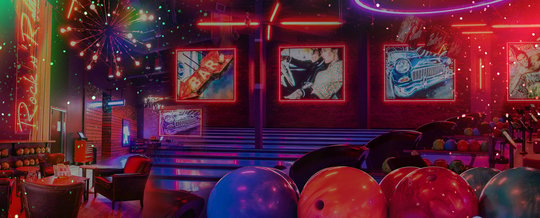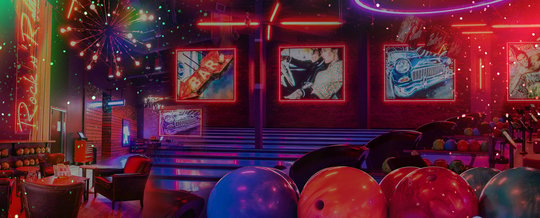 CORPORATE TEAM BUILDING
It's an Investment in Your Team.
Team Building is no longer an industry buzzword or a convenient subplot for half-hour office comedies—it's an established practice for fostering successful group dynamics in companies large and small. Getting your office out of the office and treating them to a day of bowling and signature menus shows everyone on your team that
1) boring, stuffy off-sites don't define your company, and
2) those at the top recognize, appreciate, and value the whole team—and know just how important it is for that team to stay tight by having fun and bonding while they bowl.
It's Months' (or Years') Worth of Memories Packed Into One Super-Charged Day.
Team building at Bowlero is like the time-lapse photography equivalent of office relationship-building. Or like Cliff's Notes—a condensed way to experience something truly great. Bonds that could take months or years to form can grow unimpeded and at warp speed when done under the proper conditions (which we believe include bowling balls, signature cocktails, well-oiled lanes, and funny looking shoes).
Bowling with your team takes that fun and adds the team-inspired camaraderie that only comes from group sports…and throwing stuff.
It's Learning Disguised as… Fun.
Yes, on the surface, team building just seems like another excuse to goof-off away from the office—kind of like a grown-up version of a grade-school field trip. But there's way more to it than that.
Team Building provides genuine benefits. It fosters communication among colleagues, promotes problem-solving, encourages unconventional thinking, and provides an informal, socially safe space where everyone feels comfortable to share, learn, grow, and bond.
It's Not Just Knocking Down Pins.
Team Building on the lanes can take many different forms. Ever heard of Bingo Bowling or Bowling Poker? One involves a deck of cards. One involves a bingo sheet. Both require a sense of humor, a great team of people, and some good ol' fashioned competition. Our Team Building Guide can help get your off-site events rolling with fun ideas that'll bring everyone together while you bowl.
No Skill? No Problem.
Everybody can get involved and be part of the team when you bring the office bowling. It doesn't matter if you're a 300-bowler or a Grand Pooh-Bah of the Gutterball—you don't need to be an all-star player to have a world-class time. (Strike dance contests are a perennial favorite and can make true winners out of even the worst bowlers.)
We Make It Easy. (And We Make You Look Good.)
Our experienced event engineers are specially trained and dedicated to helping you design the perfect team building event. They know our venues inside and out and are at the ready to assist you from start to finish on all things off-site-oriented.
For better or worse, everybody remembers who made last year's office team builder the total success (or colossal failure) that it was. Which colleague would you rather be?
You're Up.
Ready to get the ball rolling? Send this presentation to your supervisor or HR Director and tell them to hold your next team builder or off-site on the lanes.
Related Articles
Easy & Fun Kids Birthday Bowling Games
Ideas for Adult Birthday Party Themes
10 People You'll See at the Company Holiday Party
5 Things to Do (and Never Do) are Your Company Holiday Party